New Lake District Patches
New Northumberland Patches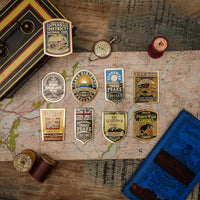 Vintage-inspired fridge magnets
We've turned some more of our popular patch designs into hard enamel fridge magnets, with more soon to come...
These have a lovely vintage feel to them and are perfect for celebrating your outdoor adventures, from favourite national parks to mountain challenges.
They're also great for brightening up your fridge or notice board, keeping loose papers, notes and memos in place, and make great gifts for hikers - if you're in search of some inspiration!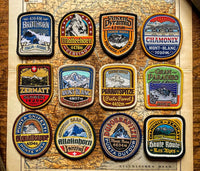 Alps patches: a milestone range
Great to finally launch our new range of Alps patches, celebrating some of the classic 4000m peaks and alpine resorts.
It was a trip to the Alps back in 2017 that sparked The Adventure Patch Company, after we couldn't find a patch to celebrate climbing Gran Paradiso - our first 4000m peaks - so this new range has been a long time in the making.
As ever, Chris has put a lot of love and design time into this range, so we hope you like!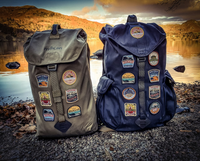 Bags of character
With a design inspired by vintage beer pump clips, our Lake District Fells patches look great paired with these retro rucksacks made by Cumbrian brand, Millican.
Perfect for adding a bit of character to your bag or other bits of gear, while marking your mountain milestones and memories.